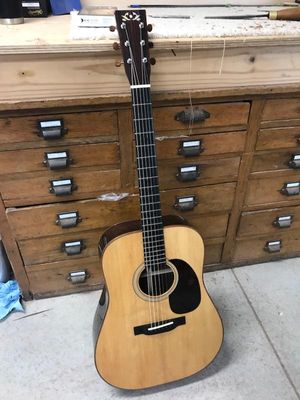 Jeff's interest in music started with public school music lessons at age 8 - but it exploded when he got his first guitar. Soon after, music lessons and jams with friends led to his first band in high school. During college, while studying for a degree in music theory and composition, he was a founding member of Single Bullet Theory, the New York Capital District's most eclectic band at the time. Offering a unique blend of cover and original tunes, SBT allowed Jeff to explore the blues, rock, and jam universe through the perspective of bands like The Talking Heads, Guns n Roses, and the Beastie Boys. Although SBT performed all over the Capital District for several years, the group tragically never recorded or released its original music. A few 'bootleg' recordings of select performances exist - but they are pretty hard to find. SBT also offered Jeff his first efforts at composing and arranging for a four piece rock band.
During 2016, Jeff helped found Blind Crow. A blazing bluegrass quartet, Blind Crow's technical ability and superb musicianship quickly made the group a fan favorite. In 2017, the band self produced and released 'Forgo The Balance'. The record contains 12 tracks of original music. Blind Crow has performed at several renowned venues, including Caffe Lena (Saratoga, NY) and Darryl's House (Pawling, NY).
Along with members of Moon Boot Lover, Dr Jah and the Love Prophets, Jeff and his wife, Carla, became founding member of LaserPlant: a high energy four-piece, straight ahead rock and roll outfit. Soaring three part harmonies and gritty grooves along with Jeff's intricate but driving guitar work make this band a force.
In 2021, Jeff continues to perform. As the pandemic lifts and smaller groups are more viable for many venues as they emerge from the pandemic related lockdown, Jeff performs regularly in stripped down duos with Jay Maloney and Zack Cohen. You can also catch him every second Sunday of the month at the Rustic Barn's Second Sunday Bluegrass Jam. (But the jam takes a break during July and August. See you again in September.)
Jeff's passion for music and community building comes through not only in his performances, but also in his establishment of the Front Yard - a home venue for house concerts. The Front Yard has been host to many wonderful evenings of live music with family and friends in attendance. Check out the 'Shows' page for information about the next Front Yard outdoor house concert.
Jeff is also a pedagogue with several years of teaching experience in private lesson and classroom settings. Jeff is a careful instructor with a passion for getting results while making music fun. He served for eight years as the teacher and music director for the Young Actors' Guild in Troy, NY.