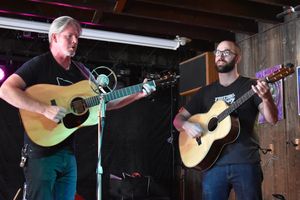 A few years ago, I had the good fortune to begin co-hosting a monthly jam at the Rustic Barn. You should come check it out - if you haven't already. Let me tell you what I like about it.
Bluegrass jams are great. They really are. It's a really cool thing to play and share songs with others. If you're playing a tune at a jam, it's probably a song that inspired you enough to take the time to learn the melody, the chords, and (hopefully, maybe) the words. And if you took the time to do all that, that song must mean something to you - at least enough to inspire you to learn it. At the jam, you get to share that little piece of yourself with everyone there - pickers and listeners alike. And that's pretty great.
The Rustic Barn is a fun place. It has pub food with real wood fired barbecue - and Jody makes all the desserts herself. The beers are varied and tasty - Jason curates the beer list with a passion for the job. There are always great bands playing there. Everyone in the place - staff and patrons - they all have a passion for music. That soul and that community make it a pleasure to hang out there.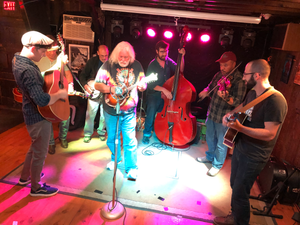 It's a no brainer. A bluegrass jam at the Rustic Barn. I'm grateful every time I show up at 5:30 on the second Sunday of the month to find the people who chose to spend a few hours picking tunes in that special place. Every time someone shares a tune, it builds that sense of community. I'm really proud of that. My co-host is Zack Cohen. We talk a lot about how to make the jam fun for everyone. We want to encourage the brand new picker who might be unfamiliar with the etiquette of a jam to stand up there and give it a shot. We also want to create a space for advanced players to feel welcome and have fun. It's a tough needle to thread sometimes but we hope to find that sweet spot every month.
We want everyone in the Rustic Barn on a second Sunday evening to feel part of the community built around music, spontaneous creativity, camaraderie, and positivity. All are welcome. See you at 5:30, Sunday, at the Barn.